For the Scriptures say, "'As surely as I live,' says the LORD, every knee will bend to me, and every tongue will confess and give praise to God.'" Romans 14:11
https://interactive.guim.co.uk/embed/2015/12/counted-year-end/?chart=race (The Guardian)
In 2016 Colin Kaepernick decided to kneel during the US national anthem as a way to protest the murders of several Black Americans at the hands of not the court system, but of beat cops. Black Americans make up only 2% of the US population yet are nine times more likely to be killed by police officers. This information is frightening, as well as, egregious and in the wake of this violence Colin Kaepernick began to kneel.
Police murder rates continue to increase and with it more football players peaceful protest through kneeling. In response to this kneeling, the president tweets that players who kneel should be fired. He also tweets that it is disrespectful to the nation to kneel during the national anthem.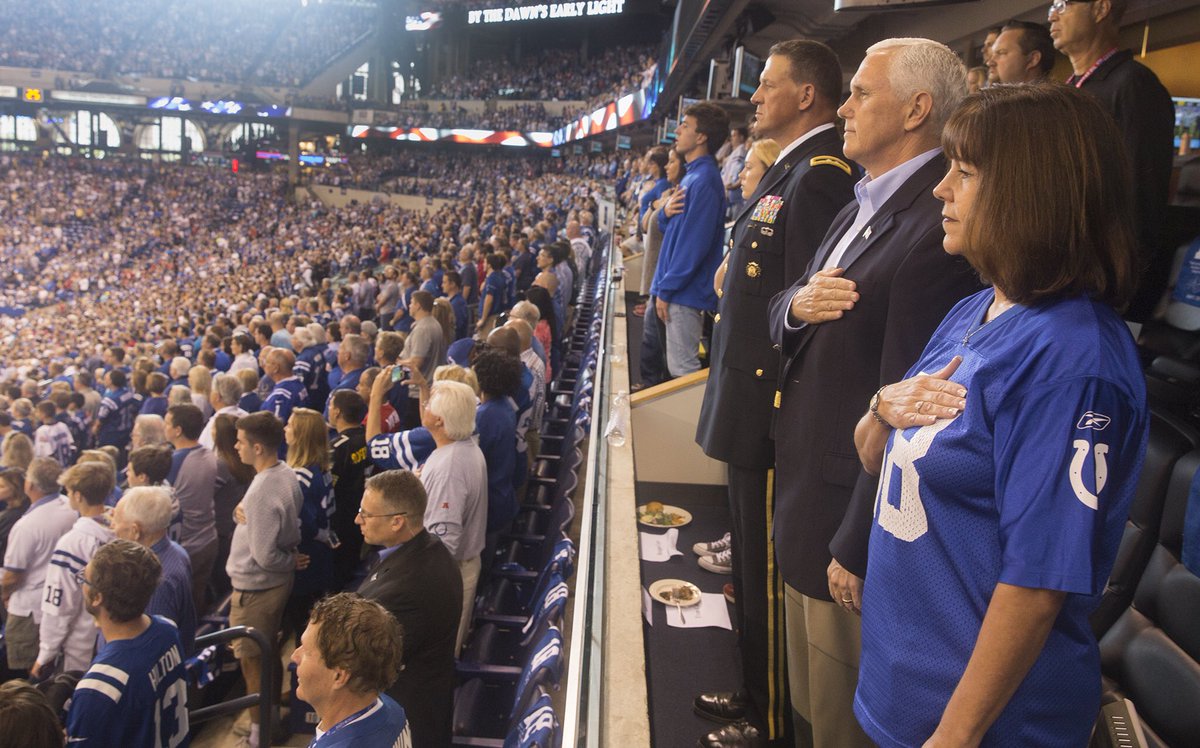 The Vice President attended an NFL game on October 8th 2017 and left when players began to kneel. He later tweeted…
I left today's Colts game because @POTUS and I will not dignify any event that disrespects our soldiers, our Flag, or our National Anthem…While everyone is entitled to their own opinions, I don't think it's too much to ask NFL players to respect the Flag and our National Anthem. – VP, Pence
The original issue that proved Kaepernick to kneel was the ever-growing list of Black Americans killed without access to a trial, yet under the guise of patriotism, the kneel has been seen by many as disrespectful to the nation and under the umbrella of politics the purpose of the kneel has been washed away to all but a few. The issue of police killing poor minorities is still an issue though this issue appears not to outrage the nation, however, wealthy football players kneeling before a game infuriates even the president. The spirit of the kneel has been missed completely or at least wilfully overlooked.
Like the kneel have we missed the point of the cross? The bible speaks of tithing which is giving ten percent of ones income as an offering to the church. God asks that an additional offering be made of any amount freely and joyfully.
All the believers were united in heart and mind. And they felt that what they owned was not their own, so they shared everything they had. Acts 4:32
God only requires 10% but in the bible many gave all they had to the poor, however, today when money is mentioned in churches, like the kneel, do we hear what we want to hear or do we open up our ears to hear what God is actually saying. Are we understanding the spirit of the tithe and offering? Do we give joyfully and free or do we tell ourselves "The church is rich enough", "they just want my money" or "I'll give to a charitable organization on my own"?  Do we take the command of God and trivialize it into the politics of a corrupt heart or do we heed and obey? What about speaking in tongues?
Then when Paul laid his hands on them, the Holy Spirit came on them, and they spoke in other tongues and prophesied. Acts 19:6
Television shows, memes, and the certain media outlets display speaking in tongues as the thing of the religious right, cults, and fanatics. The bible says Jesus spoke in tongues when He was baptized and that on the day of Pentecost many believers were filled with the Holy Spirit and spoke in tongues. We now have to ask ourselves an honest question and that is, have we left the true meaning and purpose of speaking in tongues behind only to adopt a fantastical media misconception.
And what about CHURCH? Do we see going to church as something that is unnecessary?
And let us not neglect our meeting together, as some people do, but encourage one another, especially now that the day of his return is drawing near. Hebrews 10:25
Many say that church is arcain and archaic. Many feel that they can church online, church at home via the TV screen or simply try their best to be a good person and not go to church at all. The problem with this is that God commanded otherwise. He said to gather together, collect tithes, give to the poor and encourage one another. These are instructions for a group of believers and not a lone wolf. With that is it realistic to expect a closeness to God if we are not willing to follow His instructions?  Is it realistic to expect the blessings of God to overtake our lives if we do not obey God's commandments? Are we losing the spirit of the CHURCH, in the pollutants of our corrupt heart and misguided ideologies?
There is a word for all of these willful misconceptions and that word is sin. Sin creates a chasm between man and God. Sin has its own willful oversights and misconception. This misconception is that sin is something everyone does and not something to be hated. This ideology makes Jesus and the Cross something to be worn around the neck via a gold or platinum chain or something to be tattooed on your body as creative art and not God to be reverenced as the only way to be saved.
Time magazine put Kaepernick on the cover of their October 2016 edition titled The Perilous Fight. Kaepernick wasn't trying to start a revolution, he was merely trying to solve a huge American problem. You could say that when you take on big problems you can expect big backlash. As a service member I'm not sure that I would ever kneel at the playing of the national anthem, however, I do respect why Kaepernick does. The spirit of Kapernick's kneel may be lost on most Americans though I challenge all of the readers of Word Today to not let the spirit of Christianity become just as lost.
The statistics picture courtesy of the Guardian.2015 Retrieved From:
https://www.theguardian.com/us-news/2015/dec/31/the-counted-police-killings-2015-young-black-men